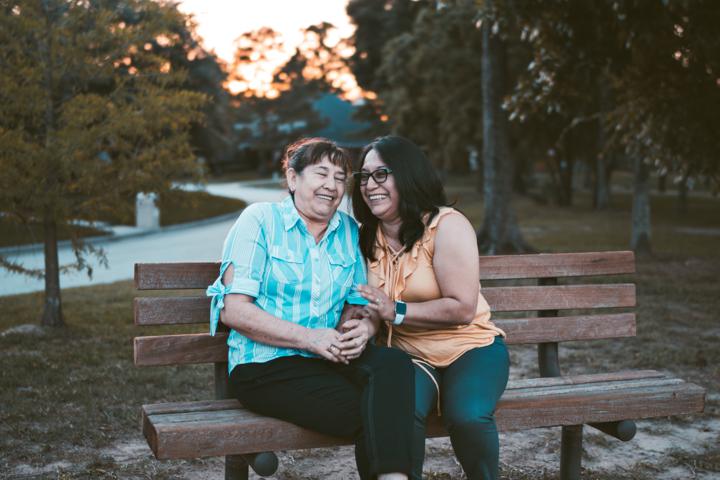 If you've never been a caregiver to a loved one yourself, you've probably known someone who has been. It's a common and natural part of life, but isn't always approached that way. Everyone becomes a caregiver in some way and at some point, but we often think of it as being far-off in the future, something to deal with way down the line. The truth is, we can become caregivers in an instant. And although these situations can feel uncertain or scary, it's important to remember that when you're called on to help a loved one, you don't need to do it alone. Although we don't have a say in whether or not we become caregivers, we always have the option to choose community over isolation. 
Still, there's no way around it - caring for a loved one can sometimes be demanding and exhausting. In the 2015 National Alliance for Caregiving and AARP study, 46% of caregivers stated that they have too many things to handle, and 42% reported that they don't have enough time for themselves.

The caregiver journey is unique, so, how can we handle some of the curveballs that may come our way? Here are 3 common situations that both new and seasoned caregivers may find themselves confronted with, and practical next steps to navigate and move forward.
1. When things change, it's time to gather information
Things change. Our loved ones get older, they experience health issues from time to time, or can be given a life-changing diagnosis with the potential to drastically affect your role in their life.
If you can see it coming, you have a unique opportunity. If you notice changes in diet, mood, behavior, or physical appearance, you can  start having discussions with your loved one. Being able to ask what they want their care to look like before they need it will ease the burden on you down the road. Knowing what they need and want will make it possible for you to make the "right" decisions and allow you to take solace in the fact that you're doing your best to meet their personal wishes.
Make sure to discuss in detail what your loved one (however young or old they may be) would want their quality of life to be like if they could no longer take care of themselves. Ask the questions you would want to be asked if you were in the same situation. Having open communication early on will make the caregiving experience less stressful for all involved.
2. Don't be afraid to lean on your own support system
As much as we'd like to think we have control over the unknowns in our lives, that'snot the reality we live in. Accidents can range from a simple slipped or herniated disk to a complicated fall that results in multiple fractures and extensive treatment. Accidents have the ability to immediately thrust you into a caregiving role for your loved one, even temporarily.
First, it's important to give yourself grace and time to adjust to the situation. Recognize that you this wasn't something you or your loved chose, and you will both need some time to accept and adjust. While you might necessarily have chosen this path, you can choose how you can respond in these moments. This is the time to really rely on your support system. It is easy for caregivers to keep their personal situations to themselves instead of sharing what's happening with friends, family, and other key supporters in their life. Mobilizing your personal community of support will be vital in managing your caregiving stresses and challenges for someone with an acute illness or injury. While it can be difficult, these are the people in our lives that truly want to show up and help if given the opportunity!
3. When intensity increases, get organized
Sometimes our caregiving situations start out less intensively. Whether it's stopping by to check in on a loved one or dropping off a meal here or there while they deal with a manageable illness or injury. Many situations don't require full-time caregiving right off the bat. 
But, when you do notice an existing condition worsening, or an injury becoming more incapacitating, you have a unique window of time to get organized before your loved one begins to rely on you more regularly. Gathering your resources and information in an organized fashion will allow you to form a solid plan of action, alleviating the stress and burden you're likely to feel as the situation progresses. Connect with your loved one's care team to learn what the progression of their condition might look like and what they will require moving forward. As you learn more about what they will need, you'll be able to assess how this will also impact your life and what practical steps you can take to adjust.
Caregiving is often discussed in a vacuum that suggests the experience is uncommon, even though one in every six persons in the United States is a caregiver. Caregivers are the backbone of our healthcare system and deserve support as they take on the incredible act of caring for someone in need of help. 
We know that as much as you would like to prepare for life's unfortunate events, sometimes the curveballs catch you by surprise. Even in those scary moments, it's important to remember you don't have to go at it alone. Remembering to rely on the tools and people around you will make the journey more manageable and less isolating. Being a caregiver is one of the greatest acts of compassion and together, we can choose community over isolation.