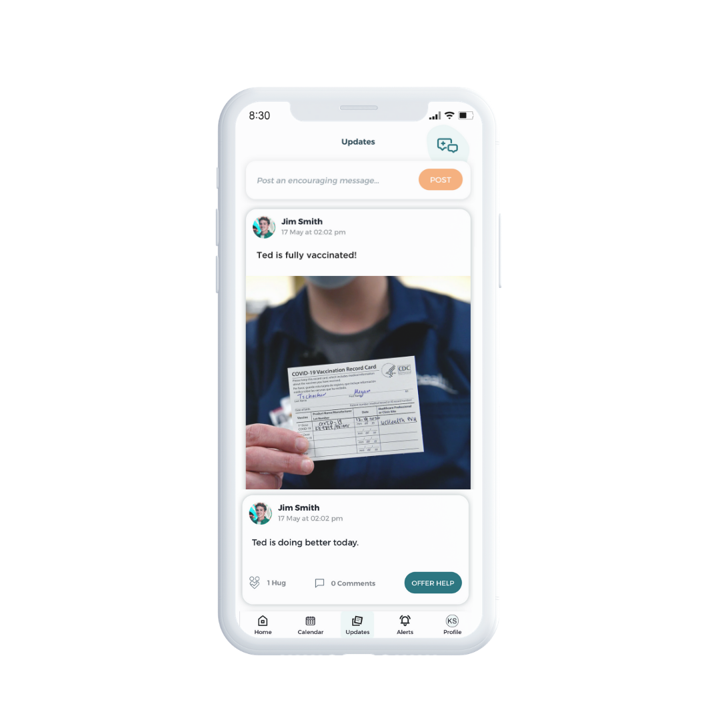 Being a caregiver to a loved one comes with enough challenges, but the COVID-19 pandemic has added more stress and difficulty to the job than usual. For family caregivers, this means extra vigilance in keeping their loved ones safe, helping them to adjust to the "new normal", and doing it all while distanced from most friends, family, and others in our social circle.
But there's light at the end of the tunnel. COVID-19 vaccinations are in full swing, and as a caregiver, you're likely anxious to learn how and when you can receive it, and what life after vaccination will look like - for both you and your care recipient.
Vaccination information is constantly changing- as the situation is still unfolding. We can count on some vaccine milestones set to take place nationwide, but it's best to use an up-to-date source for the most recent news and information on vaccination eligibility and appointments in your state. 
Aside from the state-specific guidance on when and how you will become eligible, there are still unanswered questions about the vaccine as it related to your role as a caregiver, and what to expect. 
I'm a family caregiver, should I get a COVID-19 vaccine?
If you are the primary caregiver to a loved one who is immunocompromised and feel comfortable doing so, it's highly recommended you get vaccinated. Especially if you have an active lifestyle or a job that takes you out of the house and into contact with others on a regular basis. The safest way to continue caregiving while getting back to your pre-pandemic life is to protect yourself and others by getting the vaccine once it's available to you.
As a family caregiver, do I qualify for a vaccine?
Currently, there is no nationwide or standardized priority for family caregivers. A few states have recognized the heightened need for caregivers to be vaccinated and added them to the priority list. Check here for state-specific vaccine information. As a family caregiver, minimizing your risk of contracting COVID-19 is better for everyone. You won't have to worry or stress about the potential inability to provide care support, and you can keep your loved one safe in the home.
I'm receiving my vaccine at the same time as my loved one. Is this a good idea, and is there anything I need to know?
For convenience's sake, you may want to book vaccine appointments for you and your loved one on the same day. This is a great idea, but it's important to know what to expect and prepare accordingly. Your loved one with a more fragile immune system may feel nervous to receive the vaccine, but there is no evidence that immunocompromised individuals experience any worse or different side effects after getting the shot. 
However, it's important to note that the normal side effects are possible both for you and your loved one. If you suffer from any such as fever, body aches, headache, or fatigue, it could affect your ability to continue your usual caregiving duties. Because there is a possibility that you could both experience these effects at the same time, just be prepared with extra hands-on help in case it's needed. It's also important that you and your loved one both continue wearing a mask out in public and practice social-distancing guidelines until the CDC removes these recommendations.
My loved one has already had COVID-19, should they still get the vaccine?
The short answer is yes. According to the CDC, there is still a chance that someone who already had COVID-19 could contract it again. If your loved one is expected to spend time in and out of medical offices, is at risk for a hospital stay, or has healthcare workers coming into the home to assist, they would be at risk of contracting the virus a second time. To be confident in their safety, get them vaccinated.
My loved one is house-bound and has minimal contact with the outside world, should they still get the vaccine?
Yes. If you and other caregivers (both professional and non-professional) will be coming into the home to help out or stay with the care recipient, you each are at risk of bringing the virus inside (even if vaccinated). In the near future, as friends and other family members become vaccinated, they will want to visit inside the home as well. Vaccination is the best protection against these risks.
If our friends and family members are fully vaccinated, can they come into the house and help out in a more hands-on way?
This one is trickier to answer and may require a judgment call based on your specific caregiving circumstances. The CDC is still investigating if and how likely vaccinated people are at risk of carrying and spreading COVID-19. Because this is still unknown, if you and your loved one have not yet been vaccinated, you may choose to err on the side of caution here. Especially if the care recipient's condition puts them at higher risk for COVID-19 and they have not yet been vaccinated, it may be best to hold off on in-home gatherings until everyone is fully vaccinated. 
How do I care for someone after they receive the vaccine?
While it is unlikely that individuals with existing medical conditions will experience vaccine side effects any differently, it's a good idea to keep a close eye on them. If they do experience side effects like fever, headache, muscle pain, etc., they should subside in a day or two. If the symptoms persist, contact their doctor to be safe.
The CDC states that as long as no existing medical condition already prevents from taking ibuprofen or similar over-the-counter relief, you can administer them to alleviate vaccine side effects. If your loved one feels discomfort at the injection site, apply a clean and cool cloth over the area. If fever occurs, make sure they drink plenty of fluids throughout the day. It's important to remember that side effects may be more intense after the second shot, so be sure to prepare your loved one appropriately.
Everyone in our house has been fully vaccinated. Is it safe for us to go back to "normal", or are there still risks we should be aware of?
Although the CDC is still investigating some aspects of post-vaccine life, they have stated that most people can go back to "normal", with some exceptions. Before you go back to "normal", make sure your vaccine has taken full effect (see graph below for specific timelines). When possible, avoid large crowds and gatherings like packed concerts, sporting events, etc. If traveling, continue to wear a mask. When possible, try to stay 6 feet apart from others in public. Most importantly, if your care recipient is vaccinated but has a compromised immune system, stay vigilant. Continue to make decisions based on common sense and comfort levels, and always react to any sign of infection in your house.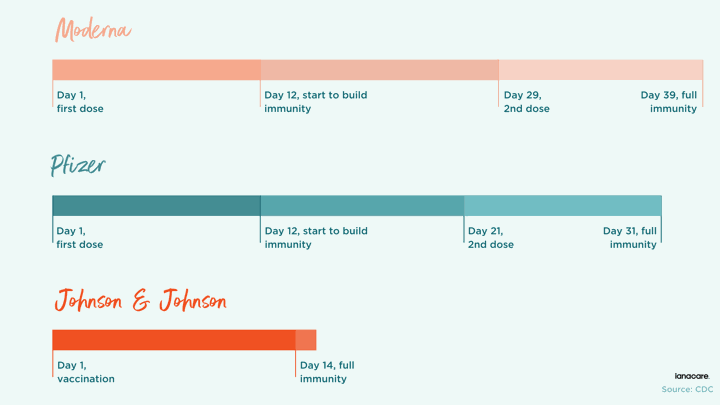 In conclusion, there is hope! When it comes to vaccination, your options and choices may look different depending on your exact caregiving situation. Do what feels best and seek guidance from the medical experts around you when needed. Lean on your support circle for help with the logistics. In your ianacare app, you can put out a request for help with rides to or from vaccine appointments, and also post an update to let everyone know you and your loved one have been fully vaccinated. 
Caregiving during this pandemic has not been easy, the extra burden and worry about infection and isolation has taken a toll. Now is the time to take a deep breath and let out that sigh of relief. We are almost on the other side of this, but it requires all of us to work together.