The holidays can be a joyful, but stressful time. Each care situation is so unique, and on top of that, every family has its own dynamics, making everything a little more tense. While we often think of Christmas, New Year's or other December holidays as the bigger "triggers", the most stressful time often turns out to be Thanksgiving.
Why? There are no gifts and typically, no other grand traditions to play as distractions from the tough moments- this holiday is all about the food, the people, and conversation, which creates room to trigger stress for every type of caregiver. We've lined up some of the most common triggers and offer practical tips to help you through these moments, so you can focus on enjoying your holiday with your loved ones.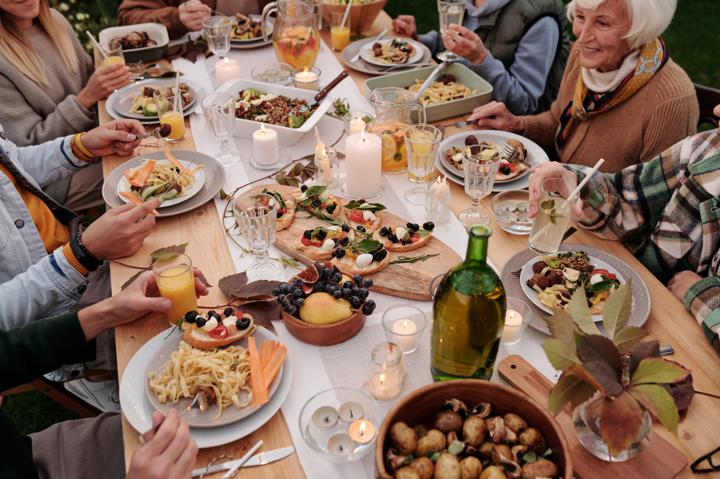 The sibling caring for mom/dad
Your mom or dad has started to age, requiring more constant care. Whether it's because you love locally, have more space, or whatever the circumstances, they have moved in with you. As siblings come in from near or far, they are sure to be more involved in care during the holiday season than usual.
No matter how communicative, close, or transparent your family is, family dynamics will always pop up. Here are some practical steps you can take ahead of time to avoid these stressful and unpleasant moments:
Prepare siblings for what they will experience.

With less exposure to your parents, your siblings are bound to notice things that have now become regular to you. A smaller appetite, a leaner stature, a limp, etc. Communicate with your siblings ahead of time so they're not caught off guard or upset upon noticing these things for the first time.

Be open about the current state of things.

Medically and financially, you'll need to be more of an open book than usual. Your siblings will want every update- details on every new medication or doctor's visit, and the state of your parent's affairs. If you have everything organized, send it ahead of time for their review and set aside time (not at the dinner table) to review it all together.

Prepare to ask for the help you need.

Now that you'll be in-person with your siblings, it's a good time to be honest about what you can and cannot handle when it comes to your parent's care. If the finances are overwhelming, ask one of your siblings to step into that role. You don't need to take it all on alone. Be ready with specific asks and be honest about how you want to proceed.
The soon-to-be-caregiver
You know your loved one is not at their best, but can't quite figure out how much help they might need. The holidays will offer an opportunity to get a closer look at their day-to-day and living situation. This situation can be full of stress, anxiety, and uncertainty. Here are 3 important steps to take, recommended by our care coaches:
Observe the state of your loved one's home.

Without coming off as degrading or overly-concerned, try to casually check in on the cleanliness of your loved one's home. Has the food in their fridge gone bad? Is the trash piled up? Are things obviously disheveled and out of place? These can all be indications that they're in need of care.
Get aligned with other family members.

If you do find something concerning and consider taking action, first get aligned with any other family members who may be involved. Cousins, parents, siblings, etc. should all be aware of your concerns. Have an open discussion where you openly share your findings and make sure you can all come to an understanding of next steps.
Approaching the topic of care with your loved one.

Lastly, your loved one cannot stay in the dark. If you need to take action that will cause their life to change, or if you have a serious concern, you should be honest with them. Approach the conversation gently, coming from a place of genuine concern and interest. Ultimately, your loved one needs to be open and accepting of this news. It can be hard, but try not to force them into this next phase.
The remote caregiver
If you've been caring for someone from a distance and are getting ready to see them in-person for the holidays, you probably have a million things on your to-do list. You have things you'd like to check in on, verify, and change. Start here:
Check in on the state of your loved one's home and physical wellness.

What we see through the screen or hear over the phone is not always reality. With more access in-person, do a sweep of your loved one's home and daily routine to make sure everything is what it seems. Has their medication been taken, or are the prescription bottles full? Is the fridge empty? If anything looks off, make a note of it so you can pay special attention in the future, even from afar.
Prepare to have conversations with other family members.

If other family members who live closeby have been helping out with care, be sure to check in with them. If upon arriving you have concerns, you may need to ask them to step in and offer even more help. If you feel they haven't been doing enough, you should be open and transparent about that, but be sure to approach the conversation gently.
Leave with a plan in place.

Go in knowing that some adjustments may need to be made based on what you observe in real-time. Set aside time to communicate with both your loved one and any other local family members about what parts of the care plan need to be adjusted, and any new roles that need to be taken on.